Generally, we've always found that narrowboats and dogs mix quite well. To have a canine friend by your side as you cruise around the canal network of the country is a real delight, and to many people living on a narrowboat, a dog makes an excellent boating companion. However, river cruising in a narrowboat needs a slightly different approach than when you are on a canal. Apart from the obvious fact that you may have a substantial flow to contend with, you are not always able to moor alongside the river bank where you want.
This means a bit more planning is required to determine where you are to stop each day. This can be further complicated if, as in our case, you have a dog on board, who needs a walk and frequent 'refreshment breaks'!  A small dog can be physically lifted onto the riverside but if, as in our case, the dog in question was a fully grown Giant Schnauzer, the problem becomes a bit more complicated.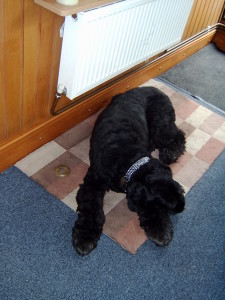 A trip up the tidal River Trent towards Torksey and on towards Lincoln meant we had to check where we could get our dog to land – and that didn't mean just where we could tie up. Mooring in a busy Newark, (next to a high quayside) involved a Heath Robinson contraption being constructed on the roof so the dog could get off the boat!
All in all, owners and dog coped well, but we had been unprepared for this sort of problem, and had to learn quickly.
There ARE places where you can get off with your dog safely, but you often don't realise where these are until retracing your steps on a return journey. So why not share your tips with other boaters who take their dogs with them?
Even if you don't intend travelling any great distance on your narrowboat, or even if you are permanently moored and go to work, leaving your dog at home, remember – in the summer, a narrowboat can get as hot as a car. It is VITALLY important that your dog be left with plenty of ventilation, access to water, and we found that pulling the curtains at one end of the boat, we could create a cooler shady area for our dog.
When you are moving your boat around, many boaters like to have their dogs outside with them. That's OK to a point, but narrowboaters with cruiser stern boats have much more space than those boaters who have 'trad' or traditional stern narrowboats.
I know many boaters who do it, but it is not good practice to have a dog or dogs around your legs on the rear of a trad style boat. Even the best behaved dog can get in the way in the event of an emergency – and can actually add to the problem. The last thing you want is to find dog or steerer disappearing overboard because one has tripped up the other.
So, in summary, enjoy the companionship that a dog brings, but be aware that a narrowboat is not it's 'normal' environment – make allowances and be responsible for your dogs actions (that includes clearing up after it – let's not leave smelly packages on the towpath or hanging in the bushes alongside the canal). That way everyone gets to enjoy the beautiful canals and rivers of the UK.