Buying a narrowboat
When you first set your heart on buying a narrowboat, your main priority should be finding the correct narrowboat for your needs. That will largely depend on the number of people you intend to carry aboard and the sort of time you'll spend on the boat. Broadly speaking, a narrowboat of about 30-40 foot is ample as a holiday boat, whilst 50+ feet is more suitable for extended cruising or a for use as a 'liveaboard' vessel. Buying a narrowboat is a highly personal decision and I have tried to outline below some of the most common areas that potential narrowboat owners need help on.
At the risk of stating the obvious, widebeams are wider than narrowboats and Dutch barges are bigger still. Most of the UK's canals are designed around narrowboats. As a result, with this type of vessel you can travel the whole waterways system. You will find you are far more restricted with a widebeam. On some canals, locks are only big enough to allow one boat in at a time, with other locks you can get two narrowboats in side by side, but it will be a snug fit!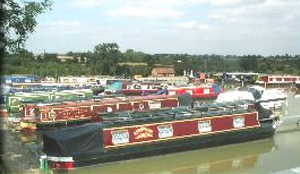 Narrowboats, widebeams and barges.
All narrowboats are 6 feet 10 inches wide. As a general rule, most nowadays are made entirely of steel (although you will find that some older boats have wooden and even glass reinforced plastic (GRP) cabins). There's an awful lot of talk about boat length. What is the best length for my needs? Where can I cruise on my narrowboat? It rather depends on where you intend to go. A general rule of thumb is that boats shouldn't be any longer than 58 feet -because some locks have a maximum length of 60 feet. (For example, the Calder & Hebble Canal restricts boats to 60 feet, and the Leeds & Liverpool Canal has a limit of 62 feet. However – there are plenty of boats out there up to a length of 72 feet, and these shouldn't be overlooked as a potential purchase if they will never be taken to an area where their length would prove to be prohibitive.
What should I look for when buying a narrowboat?
You'll find a variety of utilities on a narrowboat and whilst all boats will have some in common – there is a lot of choice when it comes to other elements.
Electricity
Virtually all narrowboats rely on a 12-volt supply from two battery banks. One bank starts the engine (just like a car battery) whilst the other provides power to domestic items such as TV, lighting and your water pump. If you intend (or want) to use 240-volt items, you will need to connect your narrowboat to shore using a land line, plugging into an electricity supply where it is available.
Alternatively, you can either use an on-board inverter, which converts your 12 volts battery power to 240v, or buy a diesel or petrol generator. The alternative to using a 240-volt supply is to buy 12-volt compatible fridges, TVs and so on; there is a wide range on the market these days and they are very efficient for boats but are also more expensive to buy. It is worth remembering that a trawl around caravan centres can turn up a good bargain sometimes.
Hot water
There are a number of ways that you can heat domestic water on a narrowboat. You can use an instantaneous gas water heater (such as Paloma or a diesel heater), or you can use a calorifier; this uses excess hot water from the engine cooling system or central heating boiler. A diverter valve can utilise the heat from diesel fired heating such as Webasto, Mikuni and Eberspacher to provide hot water.
Running water
All narrowboats will have water tank that you fill up with a hosepipe. This is normally in the front of the boat and feeds an internal system which gives you running water. The water pressure is obtained by a 12 volt electrically operated water pump, such as a Shurflo. A flow sensor switch turns the pump on whenever you open a tap, or use a shower.
On board tanks
You will find one or two of these on all narrowboats. They are used to store your domestic water or as a holding tank for a pumpout toilet. Tanks are normally made from steel, stainless steel or plastic.
Toilets
There are two main types –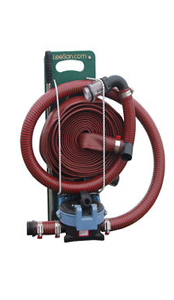 Pump-out Toilets – these flush rather like a conventional toilet in a house, emptying into a holding tank. As a result you will have to pay pump-out costs (check first as prices can differ dramatically from marina to marina). On our boat, we also have a self pumpout kit (used to empty the toilet holding tank into a pumpout point or into containers) which has proved to be invaluable when we cannot move the boat in the winter.
Cassette Toilets – these empty into a cartridge that you lift out and can empty at any British Waterways Elsan point. They come in a wide variety of different types, and most boaters find ones with an interchangeable cassette of most use, as one can be emptied whilst the loo remains operative.
Heating
– There are three main types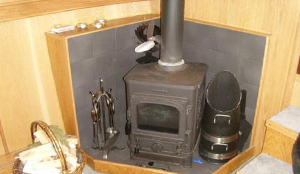 The solid fuel stove – such as the Morso Squirrel. These are ideal for burning coal or logs
Gas fired central heating – such as the Alde boiler.
Diesel fired central heating– such as Webasto, Mikuni and Eberspacher. These can provide heat through radiators around the boat, or can be of the warm air variety.
Quite frankly, the heating type is down to personal choice. Many people like the dry heat of solid fuel but it must be remembered that it takes time to prepare the fire. Gas and diesel provide almost instant heat and can be operated on a timer – giving you the luxury of waking up to a warm boat on cold winters mornings.
The Engine
On a narrowboat you generally find three main types
Air cooled – like a car engine, these rely on a flow of air to keep them cool.
Keel cooled (sealed system) – the engine is cooled by the flow of water through a tank on the stern of the boat. You will find that most modern engines use this system.
Raw water cooled – these take pumped water from the canal which is pushed around the engine and uses a heat exchange to cool it down. For simplicities sake, most people choose a modern water cooled diesel engine or older air cooled diesel engine
Surveys
It's always a good idea to get a survey done when buying a narrowboat. That way, you can be confident your boat is structurally sound. Let's face it, you are making one of the most expensive purchases next to a house, and a Building Society wouldn't allow you to purchase a property without a full structural survey.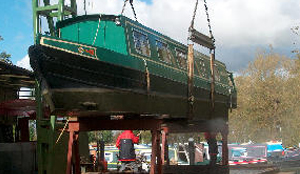 I would suggest that you pick an independent qualified surveyor (preferably an inland waterways specialist who understands steel-bottomed boats). Most good boatyards have got a list of reputable surveyors if you need help finding one. Alternatively, look in the assortment of Waterways and Narrowboat magazines on the market for Marine Services – you'll find qualified surveyors advertising there.
There are three types of survey:
A full pre-purchase survey – you will find that this is like a complete boat health check. It is carried out both in and out of the water, and it will check everything from a structural and safety viewpoint.
A hull survey – this will check the elements related to the structural/insurance parts of the boat, such as the hull and stern gear. This is done with the boat out of the water. You may well find that an insurance company will insist on this type of survey if you require anything more than third party insurance.
An internal survey – this is a general safety check inside the boat, and will test things like vents, fire extinguishers, wiring etc.
If you decide to have an out of water survey you need to pay a 'slip' or 'haul out' fee. Most reputable boatyards or marinas will arrange to take the boat out of the water for you, so the surveyor can carry out technical assessments of your hull.
To help you understand some of the names and phrases often used when buying a narrowboat, I have listed some of the more usual terms below.
Air draft – This is the height of the boat taken from the waterline to the highest fixed point on the boat (it is useful to know this so you won't hit a low bridge).
Aft – This is the rear of the craft.
Anodes – These are blocks of magnesium fitted to the hull below the water line which are designed to corrode (rather than the hull) due to electrolysis.
Appliance Record – This is completed along with the four yearly Boat Safety Scheme inspection. This will list a boat's installed appliances, fuel type and ventilation.
Berth – A dual meaning here – it can indicate the number of sleeping spaces, or the space where a boat is moored.
Boat Safety Certificate – This is like an 'MOT' for narrowboats, and which lasts four years.
Bow – This is the front of the craft.
Counter – This is the flat area below the water line above the swim.
Draft – This is the amount of the hull that is below water.
Freeboard – This is the distance between the waterline and the lowest deck level where water can enter the inside of the boat.
Gunwale – This is the top edge of the hull where it joins the cabin side (but you will find it pronounced 'gunnel' to rhyme with 'funnel').
Hull – This is the main part of the boat that sits in the water and gives a boat its buoyancy.
Port/port side – This is the left-hand side of the narrowboat when standing at the stern facing forward (towards the front end).
Skeg – This is a steel horizontal bar welded to the base plate (normally in channel form). It protrudes from the stern to carry the lower end of the rudder post and bearing. You will also find that it gives a degree protection to the propeller.
Starboard/starboard side – This is the right-hand side of the narrowboat when standing at the stern facing forward (towards the front end). The phrase comes from the Norse term 'steerboard', which describes the oar used to steer the boat, which was attached down the right hand side of a Viking Longboat
Stern – This is the back of the boat.
Sterngear – This is normally regarded as collectively including the propeller, propeller shaft, stern tube, stern tube bearing and stuffing box or packing gland (which is an adjustable gland designed to help keep water out of the engine space bilge).
Swan's neck – This is the 'S' shaped steel bar welded to the rudder post. The tiller bar (which is usually a shiny brass bar with a wooden handle on the end) is fitted to the swan's neck on a narrowboat.
Swim – This is the after (back) underwater part of the hull that tapers to a point to allow a cleaner flow of water over the propeller.
Tiller bar (or extension) – This is a brass bar, usually with a wooden handle on the end that fits on the swan's neck of a narrowboat to give extra leverage when steering – it is often held in place with a decorative tiller pin
Transom – This is the normally rounded after (back) part of the narrowboat above the water where the steerer stands. Occasionally, the transom will be a square profile which allows for more external space on a cruiser deck narrowboat
Tumblehome – This is the amount that a cabin side slopes inwards at the sides from the vertical (in order to give more bridge clearance).
Waterline – This is the position on the boat's hull, where it floats.
Windlass/lock key – This is a cranked handle for opening and closing lock paddles