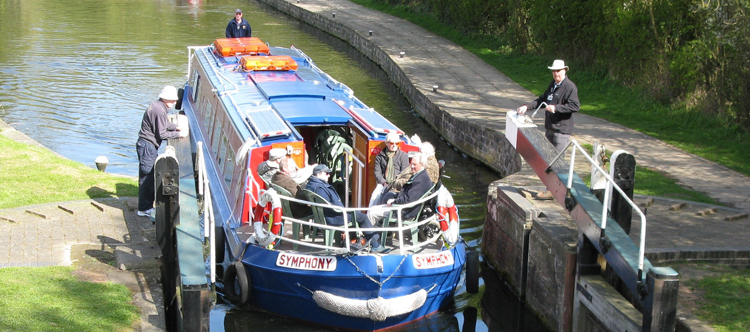 I have been asked on a number of occasions about disabled canal boat hire, whether a narrowboat or widebeam for a day or longer periods. Is a narrowboat a suitable place for less able people, in particular, those who are wheelchair bound?
Happily, a narrowboat holiday is one of those places where everyone, able or less able has a part to play. The first thing to consider is the most blindingly obvious – how to get on and off the boat, particularly for wheelchair users.
Many boat hire companies (and I've listed some at the bottom of this article) have specially adapted boats with ramps and often wheelchair lifts to allow easy access. It is important that the captain of the vessel (and you can all argue over who that should be!) must ensure that the towpath is as level with the side of the boat as possible to try and avoid any slope.
Many towpaths are now tarmac covered so using a wheelchair is no issue, but in other places, the width or muddiness of the towpath could create a problem. For this reason, try and discuss your requirements with the narrowboat hire company in advance.
It is not normally acceptable to drive something like a mobility scooter along the canalside as the use of a motorised vehicle of any kind is usually prohibited.
Once on the boat, the most striking feature most people comment on is the lack of space! Again, this may sound obvious, but even able bodied 'newbies' have a shock adapting to the more restrictive confines of a narrowboat. More planning is required on the part of the boat builders to adapt a vessel for wheelchair users, but many modern vessels now incorporate such features as disabled toilet facilities, full wet rooms (rather than just a shower tray or bath) and low level bunks for sleeping. Some even have a ceiling hoist over the bed.
A few have gone a little further and are able to offer disabled narrowboat hire with a special remote steering system (you see, I did say everyone plays their part!) and with low level windows so all passengers get a fantastic view of the ever changing canalscape slipping by.
Outside the boat you will often find a larger than normal cruiser stern, so everyone can be 'on deck' at the same time. Life jackets should be worn by all crew who may have difficulty swimming.
Another point often overlooked is to take a torch or lamp with you if your trip is to incorporate a tunnel. As the only illumination is the spotlight at the front of the boat, anyone lower than the roofline (that includes children as well as anyone seated) will find themselves in darkness and the simple inclusion of a battery lantern makes the rear deck a much cosier place to be!
I hope this article gives some pointers towards what is available. As promised, you will find a number of links below to narrowboat hire companies who have specially adapted boats for people of all ages with mental or physical disabilities. The inclusion of a company is not an endorsement or recommendation, and potential hirers should discuss their individual requirements with the hire company in question. Happy Boating!
The Accessible Boating Association – these operate two boats on the Basingstoke Canal
The Baldwin Trust – these operate two boats from Leicester Marina, Thurmaston and Pillings Lock Marina, Quorn in Leicestershire
The Bruce Charitable Trust offer four specially constructed broad-beamed boats from two bases on the Kennet and Avon Canal. These are available for hire by groups including the disabled.
The Canal Boat Project – on the River Stort in Harlow, Essex
The Coventry Rainbow Canal Trust – no website – contact them on 024 7645 9621 – this operates the narrowboat Lady Godiva, which has been specially adapted for day trips or holidays for people with mental or physical disabilities.
Disabled Afloat Riverboats Trust – These have boats on the Thames, Kennet and Avon and the Yorkshire Ouse
Ethel Trust Community Barge at Thorne, near Doncaster, on the Stainforth and Keadby Canal
The Lyneal Trust – This is based at Ellesmere on Llangollen Canal
The Mary Sunley Canal Boat – this is based at Lord Vernon's Wharf in Higher Poynton, Cheshire
The Peter Le Marchant Trust – this operates three specially adapted boats from Loughborough, Leicestershire.
South Staffordshire Narrowboat Company – operates the boat Ernest Thomas II from Wolverhampton, in the West Midlands.
The Stockport Canalboat Trust. These offer day trips and short holidays for people with disabilities around the canals of North West England.
The Swansea Community Boat – based on the Tawe River Navigation in Swansea, Wales
The Willow Trust – at Saul Junction, on the Gloucester and Sharpness Canal