There are literally thousands of miles of towpath that run alongside the canal network of Britain, and despite some of it falling into poor repair (particularly in sections of the South Oxford canal!) most is suitable for walking by people of all ages.One of the big advantages for the more sedentary walker is the fact that with very few exceptions, canals follow a relatively flat route without major climbs.
Those climbs that do exist tend to be short and sharp, invariably leading to another flattish section very soon.
Local libraries (yes they do still exist) are a good source for local walking guides and narrowboat information; alternatively a quick trawl on the internet will soon show if any routes of particular interest exist in the area you wish to explore.
Although some have closed, there are still a number of canal side pubs that offer sustenance and a pint or two to the hungry and thirsty traveller. Some of note are the Shroppie Fly on the Shropshire Union Canal, The Globe on the Grand Union Canal, and the Star at Stone in Staffordshire – part of the Trent and Mersey Canal route. Readers will have their own favourites, for a wide variety of reasons, but such hostelries were not originally created for walkers, but for the working boat crews that plied their trade around the canal network of Britain over a hundred years ago.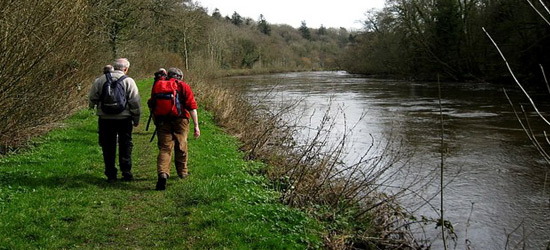 When taking a narrowboat holiday, crews should try and determine where a good walk exists near their proposed mooring site. Then, once the boat has been tied up for the day, boaters can get a chance to experience the area they are boating through, something that is virtually impossible to do if you travel everywhere by car. (You'll probably find you can walk faster than the boat was travelling, anyway). Narrowboaters have a habit of travelling from pub to pub and some moorings around the most popular places are at a premium. Don't expect to arrive at a popular mooring at 7.30 on a summers evening and be within 100 metres of a popular drinking place!
Fenland is well covered by walks but be aware that in some areas of the Norfolk Broads for example, you may find a walk that has to go around a large area, as many walks in this area are not linked by bridges, and may involve a ferry crossing to reach the other side of the water.
Above all – enjoy your walk. Try and discover a little of the area, its history and wildlife, as all these factors make a day out on (or beside) the water more satisfying.